Unpacking your new SHFT running kit
Your SHFT package, consist of 2 pods, a USB charger and a chest strap. See section
Wearing the pods
regarding where to place the Pods and how to use SHFT.
Please note, if the Pods are blinking red you need to charge them before starting your run. See
Charging the pods
for how to charge your Pods.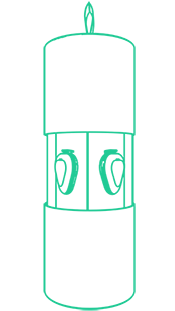 Downloading the SHFT App
Find and download the free SHFT App to your smartphone by searching for "SHFT" in App Store or in Google Play.
Login into the App the first time
The first time you log into your SHFT App on your smartphone, you have to register for a SHFT account.

Simply press the SHFT App and follow the instructions to enter the information needed. All fields are required.
Putting on the chest strap
Place the chest strap on the outside of your running clothes, around your chest. Make sure the chest strap is tight by connecting the strap hook to the loop and adjusting it to fit your size.

If the chest strap slides down during a run, tighten it more firmly. The rubber inside the strap should hold the position of the strap, so it does not slide down, as long as it is tightened firmly.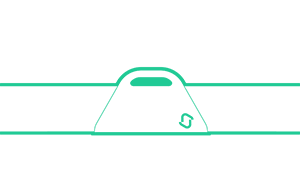 Putting on the Pods
Place one Pod on the lateral / outer side of your right shoe between the laces.

Place the other Pod in the pocket on the front of the chest strap. Only the clip should go into the pocket. You must be looking down at the SHFT logo on the top of the Pod.


Attention:
It's important that you don't place your phone on your back. Alternatively you can place it on your arm, in your pocket or in a waist pack in front.
Pairing the pods
To use SHFT, please pair the Pods with your smartphone. You need to turn on Bluetooth first.
Activate the Pods by tapping on them twice until the Blue LED light starts blinking. If the light blinks red, you need to charge the Pods. You will see a list of available Pods when you click "Start Running" the first time. We recommend that you avoid close contact with other users' Pods the first time you connect to your set of Pods. Click on the two available Pods to select them.
Attach your smartphone to your arm or in a waist belt and attach your earplugs
Press "Start Running" when you are ready to run
Listen to and follow the instructions
Pausing a run
Press the pause button on your SHFT APP
To resume your run, press the play button on your SHFT APP
All measuring of data will pause, while SHFT is on pause
All measuring will resume, after pressing the play button
Finishing a run
Press the stop button
After a run is stopped, you will receive the Coach's report of your run and get instant access to analysis of your running data on the App
The report will give you a conclusion of your run, based on the development in your focus metric - the metric you have been training to optimize - and further metrics. The conclusion will also evaluate your SHFT Score and Running Efficiency
SHFT will recommend a number of Technical Drills to improve your running technique, show an animation of your run and give you detailed information about your run, including charts for each metric. (See the "Analyzing your run" section for more details).
Your running data will be available in the SHFT Portal (see Data connection for more details)
The Pods will automatically change to sleep function
If they need to be charged, the Pods will blink red, in which case, you need to charge them (see Charging the pods for more details)
Coaching structure
You start every SHFT run with a 5-minute warm up, in a comfortable pace where you are able to speak.

The first time you use SHFT, you will do a 2 minute Screening Run, where SHFT will evaluate your current running technique and the areas where you can improve. SHFT will re-evaluate your running technique every 10th run with the coach turned ON.

After your Screening Run, you will have your first 2-minute break. You decide, if you want to keep running, walk a little or stop completely.

Now you are ready to begin your first 6-minute Technical Run, where you will be coached based on your Screening Run.

All in all you will have three Technical Runs and three built-in breaks. After your session, your SHFT-coach will provide you with a comprehensive Conclusion about your run and information about what to focus on next time you run with SHFT.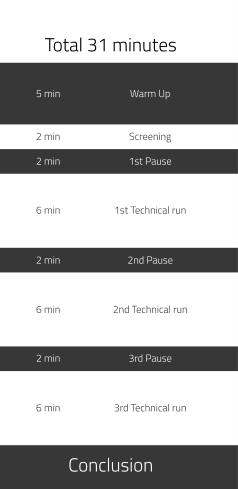 Data connection
After your run, your running data will be available in your SHFT App. Data is automatically transferred to the SHFT Data Center. From here, your running data is always available, from the SHFT App or the SHFT Portal. Transfer of your running data happens whenever you have Internet access on your smartphone. You do not need to manually upload your running data.
Charging the pods
When the Pods need to be charged, the LED will start blinking red
Place the two Pods on the charger by connecting the two pogo-pins on the Pods to the corresponding two pins on the charger
Plug the Charger into a USB port on your computer or a USB wall charger
The charging process will now start
When the Pods are fully charged, the LED will start blinking green

It takes one hour to charge the Pods completely. When fully charged, you can run with the Pods for approximately 7 hours. There is a sleep mode built into the Pods, which makes them change to low energy, when not in use. In sleep mode, they work up to 60 days.
Latest workout
By selecting your latest workout, or a run from your previous runs, you will get access to your running data.

You will see normal running data like average Pace, Speed, Distance, and Time, but you will also see your Watt and receive a Coach conclusion of your run.

In the middle of the screen, you will see a triangle with four circles. The three largest circles are Categories and the center circle is our SHFT Score.
Categories
SHFT divides all running metrics into 3 categories with a score:
Movement
Impact
Efficiency
In the Movement category, we include the metrics that you as a runner can influence and change during your run.
In the Impact Category, we include the metrics that reflect the mechanical stress on the body during your run. These metrics are consequences of the metrics in the Movement Category.
In the Efficiency Category, we include metrics that best describe the efficiency of your running style. All metrics will influence your Running Efficiency, but the metrics included in this Category are the metrics with the highest influence.
If you click on one of the three Categories, you are directed to a new page which displays your running data for each metric within this Category.
You can go into further details for each metric. By clicking one of them, SHFT directs you to a new page that includes a visualization of the metric illustrating how it works, and a graph showing the development of the metric during your run.
For further analysis, cross analysis, and comparisons, please log into your account on the SHFT Portal.
SHFT score
The SHFT Score is the overall score of your run, including a score from all running metrics and a weighted score from each category.
Animation
Beneath the triangle on the right hand side there is an icon that gives you access to an animation of how you run. This animation is based on your data.
The animation shows how your right foot is landing on the ground, and taking off. The metrics used in the animation are:
Ground contact time
Steps per minute
Landing angle
Toe-off angle
With these metrics, SHFT creates an animation of how you run to give you a visual look of your running style.
History
By pressing history, you can slide through all your previous runs to see the Conclusions and Coach Report, view the Category scores, and see your SHFT Score.
In the top of the screen, you will see a graph with the development of your runs within a selected month. When you slide to a run from an earlier month, the graph will shift to data belonging to the corresponding month.
Please remember that the SHFT Portal provides data in more detail.
Pod settings
The two Pods, which are connected to your smartphone, are visible and marked as active. If any other Pods are visible, they will be listed below the available Pods. Please do not connect to any other Pods than the active.
Personal settings
Basic information
You entered the information in this section, when you registered as a SHFT user. If your weight changes with more than 3%, please enter your new weight. The weight is used to calculate your Watt.
Gender
Please select your gender to compare your running data with categories based on your own gender.
Address
The address is not a prerequisite for a functioning SHFT. The information is used to compare your running scores with others in your local area, in your country, or other countries and areas.
Coach settings
Voice Coach ON
The Voice Coach is ON by default. When the Voice Coach is ON, SHFT will give you positive feedback and Instructions about what metric to focus on and how to improve your technique.
Furthermore, you can choose what Type of Feedback you want to hear and at what Feedback Interval.
Feedback Interval is available at every:
250 meters
500 meters
1000 meters
Feedback Type can be one or more of:
Voice Coach OFF
When the Voice Coach is OFF, the SHFT Coach will not start a coaching session during your run. SHFT will collect all metrics, but only give you voice feedback on your selected metrics.
Instead, you can choose what metrics you want feedback on. When the Coach is OFF, you can also select Feedback Type and at what interval you want to hear both messages.
The Feedback Interval and Feedback Type functions work as when Coach is ON.
Feedback metrics:
Steps per minute
Ground contact time
Landing position
Watt
Running efficiency
Choose Voice Coach OFF, if you want to focus on the development of one or more specific metrics, or if you have a coach telling you to improve a specific metric, which is not your Focus Metric when Voice Coach is ON.
Advanced
In advanced settings, you can change settings of the coach and the Pods. The Coach has two modes; Short coach demo and full coach.
Short coach demo mode is an introductory version of our coach which does not use our coacing system at all.
Full coach is the full coaching experience, which we recommend.
The Pods can either be in live pod mode or in simulated pod mode.
Simulated Pod mode is made for you to experience SHFT without running.
Live pod mode gives you the full running experience, and requires you to run, which we truly recommend.
Full coach demo and live pod mode is on per default.
Troubleshooting the pods
If any problems occur with the Pods, it is normally due to connection problems. To reset the Pods, please perform the following steps:
Attach both Pods to the charger to reset them. They only need to blink once - either Red or Green.
Turn off Bluetooth on your smartphone and re-connect.
Troubleshooting the App
Bluetooth headset can in some cases provide invalid or no data. If you should experience this, try to run with a cabled headset or with the phone speaker on.
Running metrics
G-landing
Brake effect
Watt
Landing position
Landing angle
Running efficiency
Steps per minute
Ground contact time
Step length
Body bounce
Body angle
Time in air
Toe-off angle
FCC statement
This equipment has been tested and found to comply with the limits for a Class B digital device, pursuant to Part 15 of the FCC Rules. These limits are designed to provide reasonable protection against harmful interference in a residential installation. This equipment generates uses and can radiate radio frequency energy and, if not installed and used in accordance with the instructions, may cause harmful interference to radio communications. However, there is no guarantee that interference will not occur in a particular installation. If this equipment does cause harmful interference to radio or television reception, which can be determined by turning the equipment off and on, the user is encouraged to try to correct the interference by one or more of the following measures:
Reorient or relocate the receiving antenna.
Increase the separation between the equipment and receiver.
Connect the equipment into an outlet on a circuit different from that to which the receiver is connected.
Consult the dealer or an experienced radio/TV technician for help.
Changes or modifications not expressly approved by the party responsible for compliance could void the user's authority to operate the equipment.
This device complies with part 15 of the FCC Rules. Operation is subject to the following two conditions:
This device may not cause harmful interference, and
This device must accept any interference received, including interference that may cause undesired operation.
IC statement
This device complies with Industry Canada's licence-exempt RSSs. Operation is subject to the following two conditions:
This device may not cause interference; and
This device must accept any interference, including interference that may cause undesired operation of the device.
Le présent appareil est conforme aux CNR d'Industrie Canada applicables aux appareils radio exempts de licence. L'exploitation est autorisée aux deux conditions suivantes : (1) l'appareil ne doit pas produire de brouillage, et (2) l'utilisateur de l'appareil doit accepter tout brouillage radio électrique subi, même si le brouillage est susceptible d'en compromettre le fonctionnement. This equipment is in compliance with the essential requirements and other relevant provisions of Directive 1999/5/EC. Operation temperature -10°C and 40°C